Beyond the figures, there are many things that make this bike even more worthwhile, like the dual spark plugs per cylinder, automatic hydraulic valve adjustment, the electric start, and 45-degree cylinder arrangement. Those were nice things to have back then.

Wikipedia has this to say about the 1984 model year:
The "VT700C" was introduced this year as a direct result of increased tariffs placed on Japan's imports. The U.S. raised the import tariffs on engine sizes above 701cc's. So the engine size was reduced from a 750cc to 700cc to get the bikes into the U.S. This years model was available in either Black or Candy Scorpio Red on the tank, side covers and rear fender. Special identifying features of this model are the round head lamp and instrument casings with a chromed front fender. The front wheel bore a dual disk brake system and dual horns mounted on the front. The painted side covers had the "Shadow 700" decal. The engine is a 694cc SOHC 3-Valve Liquid Cooled V-Twin with a six-speed, shaft drive transmission from 1984 to '87. New hydraulic valve adjusters and twin plug cylinder heads were used.
Going from Four Wheels to Two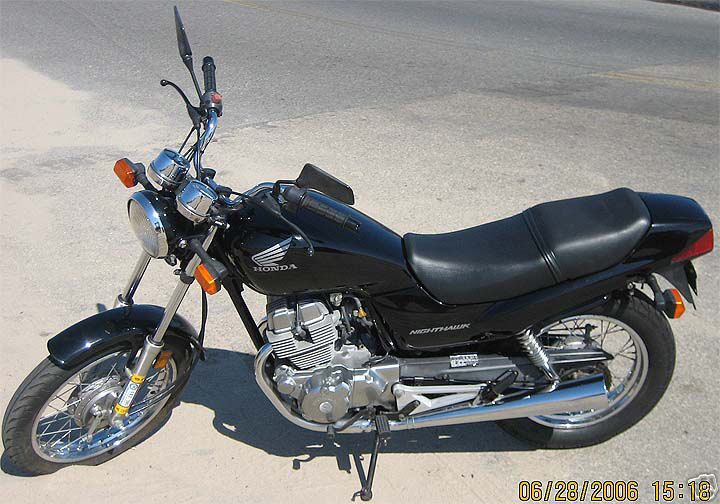 A number of factors led to me starting to ride in 2006. First, gas prices in my area were in excess of $3.30/gallon, and there was much frustration in that. That's what got me into the Motorcycle Safety Foundation (MSF) Basic Rider Course (BRC) at a local college. Played around with a late-ish Honda Nighthawk 250, and didn't trash it. I just couldn't find neutral... The BRC counted as my state's license road test, so all I had to do was show up at the DMV, answer 16 questions, and shell out about $80. Done, licensed to ride.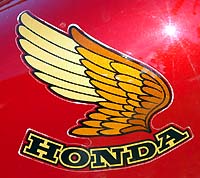 The next factor was repeated trouble with my daily driver, my 1998 Honda Civic. The motor died one day, the AAA tow truck then hit it, my mechanic replaced the ignition coil, AAA had someone fix the body, the exhaust started making noises, the check engine light came on, and I had enough. I went over to my local bike dealer (within walking distance of home!) and said, "Hey, what can you give me for $2000?" He showed me a grubby 1984 Honda VT700C. I knew it had two wheels, handlebars, and it started and idled quietly. Ok, sure, we have a deal. I lucked out!

Funny thing was, I had never gone faster than 20mph on a bike, so one of the guys had to take it home for me. From there, I stayed on local roads and learned how to do everything WRONG! Try this on for size:

Didn't turn the fuel valve on... ooh, that bike gets cranky about that ;)


Didn't set the kill switch and cranked the motor, eventually having one helluva backfire!


Was a little heavy on the rear brake and nearly crapped my pants when the back stepped out!


Repeat often, in intersections and in front of coworkers. Yeesh.

In summary, I look lots of little steps, made plenty of little mistakes, and got some confidence. And today, I ride more often than I drive!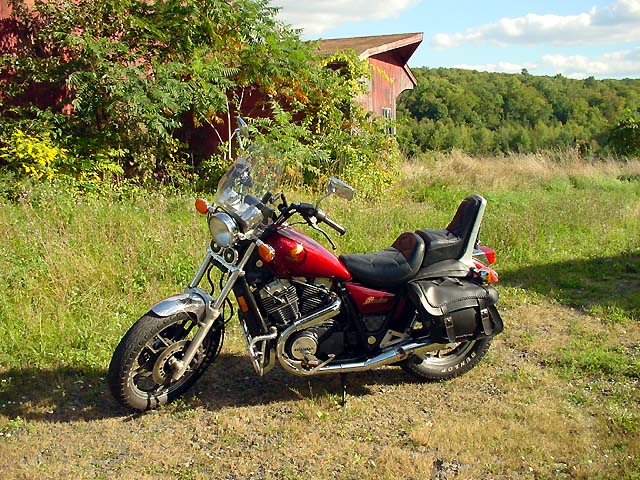 BAM's 1984 Honda Shadow, before exhaust upgrade
Riding as a Way of Life
Sure, the bike shined up nicely, and ran well enough. But my purpose was to use it as a commuter vehicle, not an image-building device. The evolution began with:

full face helmet with visor
a backpack to hold my work laptop
rain gear for surprise visits from nature
a wind deflector to keep my neck from snapping in the wind
gauntlet gloves for the colder rides
saddle bags to hold the rain gear and gauntlets
leather bomber jacket for upper body protection
aftermarket exhaust. Stock exhaust was crisping my bags!
That said, I've ridden more than 1600 miles in the first two months. I'll go until the cold freezes the road. I have a thing against dying, so that will likely put a crimp in my riding time.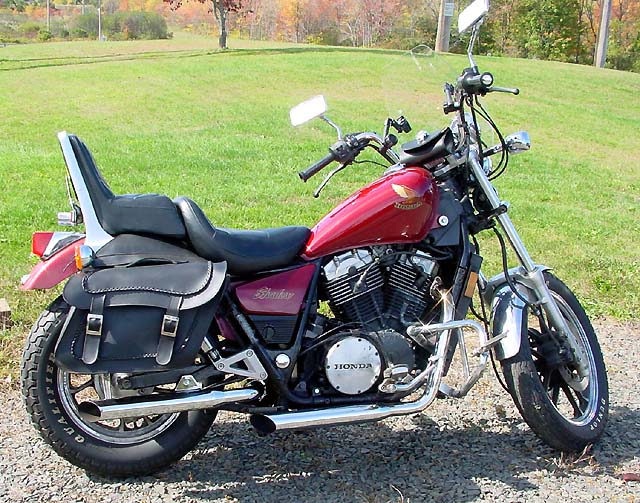 BAM's 1984 Honda Shadow, after exhaust upgrade
The exhaust gives it an angry tone, which can be muted by keeping the revs low. Sure, it doesn't trash my saddle bags, but the rear pipe melted one pair of pants and scorched my jeans.
Future Work
First off, I have to keep the new exhaust from setting my clothes ablaze. Perhaps I can get a heat shield fabbed, get it welded to a couple of hose clamps, then get it chromed.

Next is my distaste for the integrated sissy bar. I'm not ferrying people on this ride! Unfortunately, it's not a bolt on, but factory-integrated with the license plate, rear lighting, and rear seat. I am looking to get a seat from a 1986 year Shadow, machine the sissy bar structure, and remove the key-lockable toolkit/document holder.

The combination gauge with tachometer and water temp is my next peeve. Like so many Shadows of this era, the tach works whenever it damn well pleases. But the water temp is inset into the gauge, so I can't ditch it before I come up with something better.

Lastly, the trim ring on the headlight is dented from the prior owner. I wouldn't mind putting a a nice "eyelid" ring on it.
The World is Your Oyster
Sure, ride to live, live to ride. Yeah, yeah, that cliche works. Any better sayings?

"Drive like ya stole it": um, maybe for the crotch-rocket kids, but not me.
"Keep'er shiny-side up": but it's alllllll so shiny!
"This thing eats pavement all day long": I better not be eating pavement.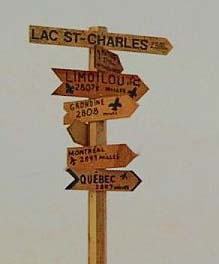 And my biker quote:
"Two roads diverged in a yellow wood... I flipped a coin because my pants were burning, the longer I stood.
I can't say Robert Frost would be too proud of that one.